SNAC AND ST VINCENT'S PARTNER TO ACCELERATE AI-ASSISTED IMAGING DIAGNOSTICS AND PRECISION RADIOLOGY
10 June 2022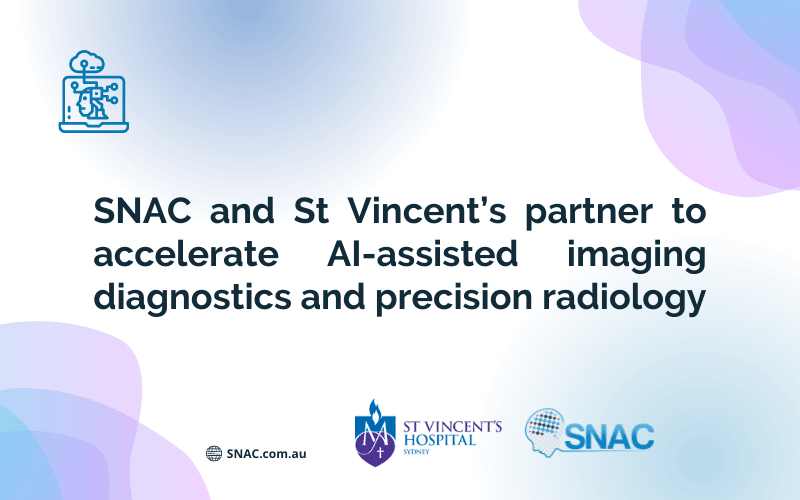 Sydney Neuroimaging Analysis Centre (SNAC) and St Vincent's Hospital Sydney (SVHS) signed a multi-year, strategic collaboration agreement that will focus on the development and deployment of novel artificial intelligence-based solutions for enhancing the diagnosis and treatment of Australian patients with acute and chronic medical conditions.
SNAC and SVHS bring together an array of complementary resources, including AI engineers, radiologists, imaging analysts, expert clinicians and data, which together with SNAC's technology platform will drive large-scale deployment of AI-based clinical applications in one of Australia's leading public hospitals.
"St Vincent's has always been at the forefront of medical innovations, motivated by a deep commitment to the  wellbeing and care of our patients," said A/Prof Anthony Schembri AM, CEO of SVHS.  "The collaboration with SNAC will embed artificial intelligence into our existing clinical pathways – and in particular will focus on rapid triage of critical imaging abnormalities in patients presenting to our Emergency department; and enhanced monitoring of our patients with chronic neurological and other disease," Prof Schembri said..
Tim Wang, COO of SNAC, said: "Our artificial intelligence (AI) solutions are uniquely based on a decade of clinical-trial quality image analysis experience at SNAC. This landmark collaboration agreement with St Vincent's, a major Australian teaching hospital, will deliver novel healthcare solutions at scale and bolster SNAC's growing suite of imaging-AI and informatics products".
"The abundance of data produced by state-of-the-art scanners provides us with an opportunity to extract unprecedented detail from brain and body images", says Dr Eugene Hsu, radiologist at SVH.  This is where automation and AI will add tremendous value to radiology – we look forward to working closely with the SNAC team".
About SNAC
Established in 2012, Sydney Neuroimaging Analysis Centre (SNAC) is a medical imaging analysis and research SME that integrates clinical imaging and neurosciences with engineering research. SNAC uses advanced technologies such as artificial intelligence, cloud computing, and big data analytics to develop cutting-edge, clinically-informed imaging biomarkers of disease progression and therapeutic efficacy; and the software tools and products to implement these both research and clinical environments.  SNAC is also the sole regulatory-compliant (ISO-9001, ISO-13485 certified, CFR-21 Part 11 compliant) provider of central neuro-MRI reading for pharma Phase II-IV clinical trials in the Southern hemisphere.
About SVHS
Founded in 1857 by the Sisters of Charity, St Vincent's is one of Australia's most iconic Hospitals, which functions as a full service acute public teaching hospital. Part of the NSW-based arm of St Vincent's Health Australia, the Hospital provides significant training and research activities housing several specialty units that are internationally recognised as centres of excellence. The St Vincent's Hospital Radiology department, which will drive collaboration with SNAC, has successfully led and delivered major projects such as the Australia's first MR-guided focused unit for the treatment of disabling neurological disorders.
Media contacts:
David Faktor, 02 83822866 (SVH)
Tim Wang, info@snac.com.au (SNAC)