SNAC is a leader in medical imaging innovation, bringing AI and informatics solutions to the point of care. Working closely with radiologists, clinicians and AI scientists, SNAC facilitates the rapid adoption of smart medical devices and interfaces, which adhere to data management, privacy and access control requirements for secure, AI-enabled workflows in medical imaging.
Education
Understanding MRI-based outcomes is critical for the interpretation of modern clinical trials, particularly in neurology and related fields. SNAC offers half-day workshops for industry partners with hands-on demonstrations of image-analyses for the derivation of both conventional and advanced MRI metrics used in Phase 2 and 3 clinical trials.
Custom workshops can be co-developed to suit specific requirements where needed. SNAC also collaborates closely with the University of Sydney's Brain and Mind Centre, providing a rich environment for doctoral and other research students in the neuroimaging sphere. Unparalleled translational expertise, both in clinical trials and clinical applications, is a bridge for students to accelerate their careers in neuroimaging sciences, industry and the health care sectors.
SNAC's Director of Operations, Dr Tim Wang, recently completed his PhD in neuroimaging analysis, receiving the 2017 Peter Bancroft Prize for most outstanding thesis.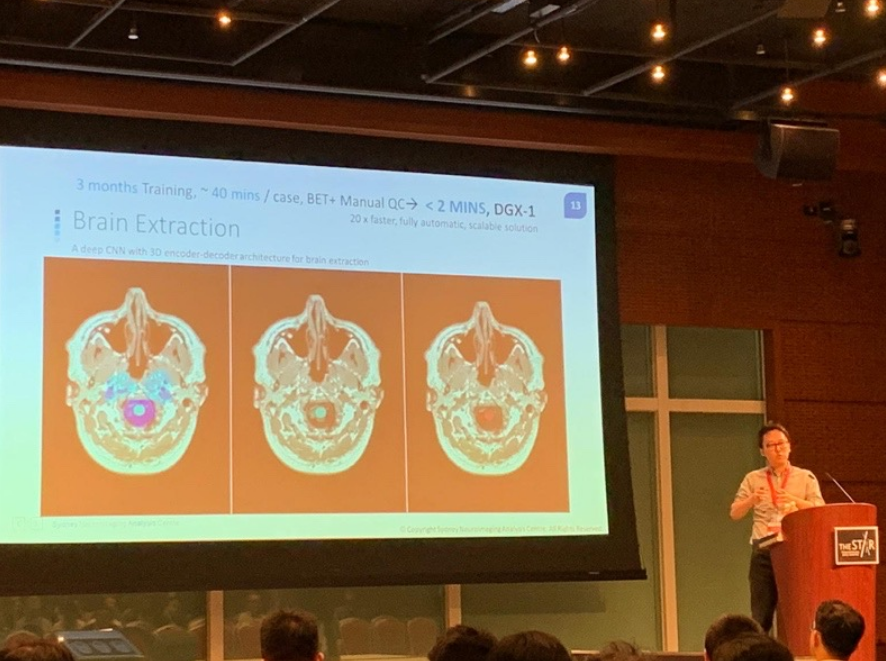 Training
As a leader in AI-enabled neuroimaging pipeline development and deployment, SNAC is uniquely positioned to facilitate continuous collaboration between the computational neuroscience team at the University of Sydney's Brain and Mind Centre, I-MED Radiology and NVIDIA. These research-industry collaborations have secured highly competitive government grants (Collaborative Research Centre Project and Medical Research Future Fund Project grants) and translational research breakthroughs, but additionally provide SNAC unparalleled clinical, technical, logistical and commercial understanding in the field.  We are therefore uniquely positioned to deliver workshops and training programs for Neurologists, Radiologists, AI scientists and Neuroimaging scientists.  For example, SNAC recently hosted the inaugural Australian NVIDIA CLARA medical imaging workshop (28/08/2019).
For further information on your bespoke workshop, please contact info@snac.com.au