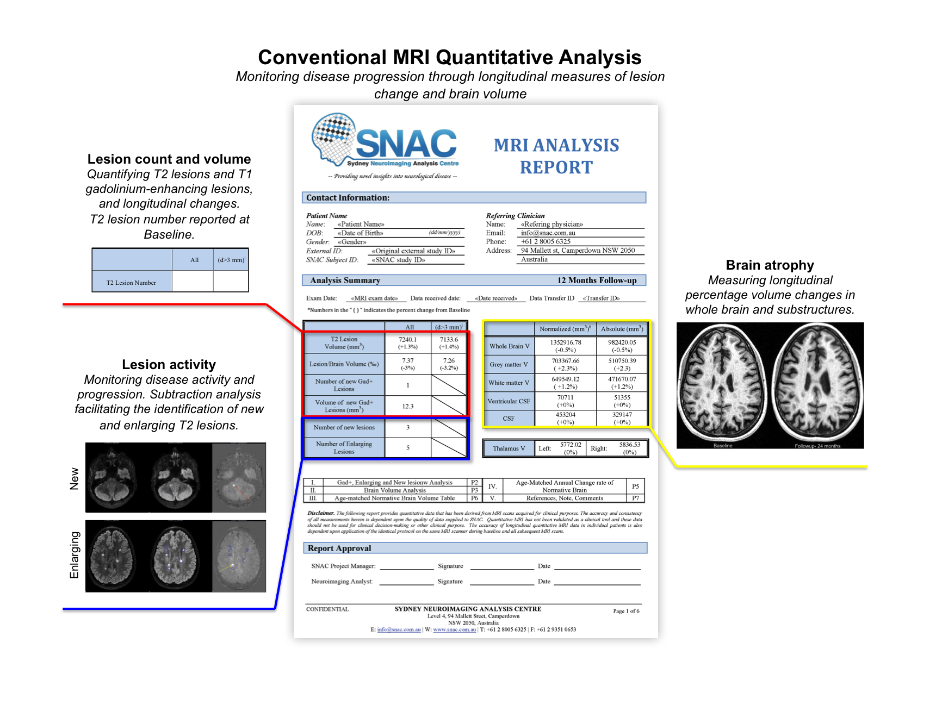 The SNAC toolbox –standardised and custom outcome measures for clinical trials and remyelination studies.
SNAC offers a standardised selection of lesion activity and brain volumetric outcome measures, along with customised solutions for studies utilising advanced imaging techniques such as diffusion imaging and magnetisation transfer imaging. We have also developed a turn-key, multimodal central reading solution for Phase 2 clinical trials of emerging remyelinating therapies. This incorporates regulatory-compliant central reading for MRI, multifocal visual evoked potential (mfVEP) and optical coherence tomography (OCT).
Advanced imaging techniques and analysis.
SNAC's advanced imaging analytics platform quantifies tissue injury and microstructural changes within MS lesions and surrounding white matter.
Conventional MRI approaches (e.g. fluid-attenuated inversion recovery (FLAIR), T1-weighted imaging) are limited and unable to reliably differentiate between lesion pathologies such as demyelination, inflammation, gliosis and remyelination. SNAC routinely employs advanced MRI techniques (such as MTR and diffusion imaging) to increase the specificity and sensitivity for particular tissue components, such as myelin, providing an avenue for the assessment of repair processes such as remyelination.
Sydney Neuroimaging Analysis Center (SNAC) has been an extraordinary partner in our clinical plans for our lead asset. When we considered Australia for our clinical trial work in neurodegenerative disease, it was quickly apparent that SNAC was the right partner. We've been incredibly grateful for the support we've received from every team member at SNAC; the SNAC team members consistently provide a level of professionalism and solid collaboration in the rigorous clinical framework required for pharmaceutical clinical drug development. Clene looks forward to further partnership with SNAC.
— Rob Etherington , President & CEO , Clene Nanomedicine